Whey protein is the by product of milk in the process of Cheese making. It is said to be complete as it consists of all the 9 Amino Acids and is low in Lactose content. Whey Protein is potent in lowering cholesterol and helps in cutting on weight. It has been proven that whey protein is best for building muscles when compared to other form of proteins like casein and soy.
The major forms in which Whey Protein is made available are Concentrates, Isolates and Hydrolysates. WPCs are high in carbohydrates and range from 29-89% in protein by weight. Isolates are 90% protein by weight and WPHs are predigested to ensure they are anti allergenic and cost higher than the rest. Whey protein generally enhances faster recovery of body proteins after exercise. Thereby trusted by various athletes, gymnasts and fitness freaks.
1: Optimum Nutrition
Optimum Nutrition (ON), found in 1983, known for its Gold Standard Whey is by far one of the most popular brand in history of Whey Protein Powder Manufacturing Companies. The brand stands out with its wide range of fitness supplements. The product line from Optimum Nutrition doesn't only include Protein Products but also Amino Energy based products and Vitamin Supplements. The coolest thing is that they also sell Nutritional Snacks and have their own Apparel Merchandise.
The best selling Whey Protein that this company manufactures is known as Gold Standard 100% Whey. The product has 24g Protein, 5.5g BCAAs and 4g Glutamine & Glutaminic Acid with every serving. This product is a Whey Protein Isolate (WPI) along with concentrate (WPC) packed into 24g per serving. Thereby making it one of the highest selling and most recommended protein powder ever.
2: MusclePharm
MusclePharm has been gaining momentum in the protein powders market through its sport affiliates and fitness influencers. The company is not only among the top 5 Whey Protein Powder manufacturers but happens to provide unmatched solutions in various other categories. MusclePharm has made sure that no stone is unturned when it comes to offering solutions for the fitness enthusiasts. The product line starts with Proteins and has 12 sort of items which include protein bars and cookies. Apart from Protein Powders, MusclePharm, as the name suggests concentrates on offering overall workout solution.
It is able to do this through its Performance & Recovery segment which essentially includes pre and post workout products. This is really incredible to write about how the company has actually planned out things for the work out freaks out there! Because having done with workout, MusclePharm offers streamlined supplements such as vitamins, Gluten, BCAAs etc. under its Essentials segment. However, the most regarded Whey Protein Powder from MusclePharm is Combat 100% Whey. The other two Whey Proteins are Combat 100% Isolate (WPI) and Stealth Series 100% Whey. We certainly recommend going ahead with this promising brand for fitness.
3: BSN
BSN is yet another popular brand but hey, there's a twist. BSN is not here just to make some random sure shot formula for Whey Protein needs (although it has one). This company rather focuses more on the experience of consuming the products for fitness enthusiasts. They do this by working on flavor enhancement and solution thickening which certainly makes it go smooth down the throat while the tasty flavor sticks to tongue. So basically, one can have their ready to drink protein mixes or protein powders as per their needs (the beverages are always easier on hands). The top selling Whey Protein that BSN has is Syntha-6.
Its really delighting to know that BSN also offers a range of products for Performance/Recovery with mouthwatering taste. Plus, the company has its own range of cloth merchandise! Although the company has offered whey protein powders and shakes with flavor enhancement, BSN has compromised on the protein content. This simply means that they do not offer 100% Whey Protein instead mix it with Micellar Casein for better endurance and performance spirit while working out. BSN has set a clear example of blending things for better without compromising on taste. As they believe that when you consume protein happily, you grow stronger.
4: Nature's Best Isopure
Nature's Best, popularly known for its Isopure line of products stands out when it comes to offering Nutrient Supplements for fitness freaks. Isopure is an exemplary whey protein powder and ready to drink protein shakes manufacturer. Because the brand focuses completely on offering Protein supplements in any manner any customer would ever like. The clear and crisp approach is what makes the company completely reliant when it comes to choosing a nutritional supplement partner.
The product line is precisely based on Protein in the form of powders and drinks. Other than which, Isopure sells its own range of merchandise that includes tees, joggers, sippers etc. This is certainly to bring in a sense of community and belongingness among the fitness enthusiasts. The best selling Whey Proteins from Isopure are Nature's Best Perfect Whey and Isopure Whey Protein Isolate. When it comes to drinks, the suggestion would be to try all the six flavors.
5: MuscleMilk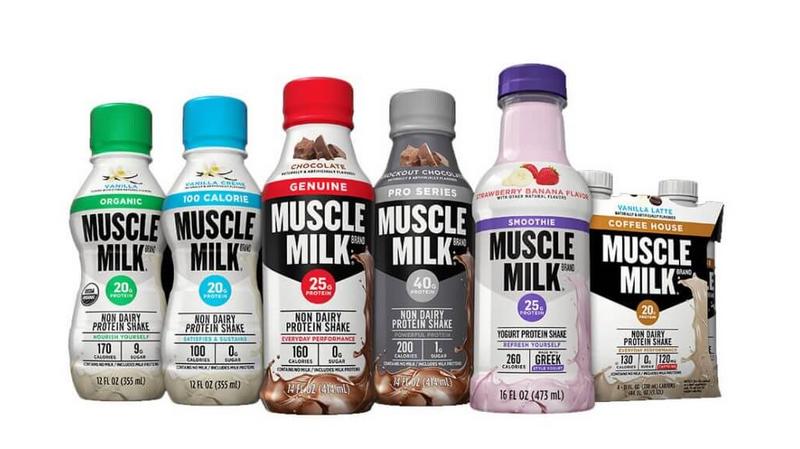 Yet another interesting whey protein powder and drinks brand, MuscleMilk. As the name suggests, their USP is premixed protein drinks for better consumption. The company claims that protein when taken in a properly mixed form, gives the best results. While they also understand that many fitness enthusiasts prefer preparing their own protein drink and this is why they have a wide range of protein powders.
Apart from ready to drinks and powders, MuscleMilk also manufactures chew bars and variety packs. Chew bars are essentially whey protein bars mixed with cereals that act as an evening snack. MuscleMilk has made the workout interesting by introducing Whey Protein Powder in almost all the flavors such as strawberry, vanilla, chocolate, banana etc. Therefore, making it difficult to determine which one's top selling as it clearly depends on individual taste. Try stuff out for yourself.